What Are the Different Types of Hair Extensions?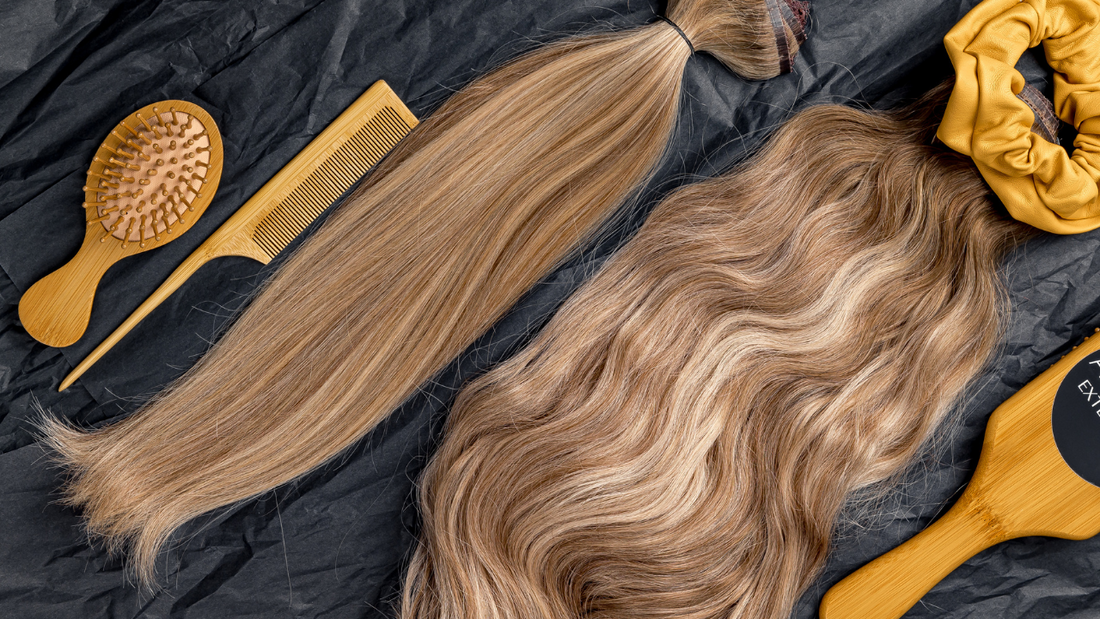 Mastering the Art of Extensions: Your Ultimate Guide


With different types of hair extensions available, they offer a realm of possibilities, from adding volume to introducing a splash of color or length. With so many extension types hair enthusiasts rave about, how do you find the one that's right for you? This concise guide demystifies the world of extensions, providing insights and tips to help you navigate your choices.
If you've ever wondered "what are the different types of hair extensions available?". "Looking for information on hair extensions? Here's the guide for you. What are the types of hair extension types? Explore the top ones and understand their appeal.


Clip-in Hair Extensions
What Are Clip in Extensions? Clip-in's are the epitome of convenience and instant transformation. These extensions come with pre-attached clips, making them perfect for those who desire a quick change without the commitment of more permanent extensions. Atelier Hair Extensions, renowned for their premium quality, offers Clip-In extensions made of 100% premium human hair. Their natural beach wave texture ensures they seamlessly blend with all hair types, offering a look that's both stunning and indistinguishable from one's natural locks.


Advantages of Clip-in Extensions by Atelier


Instant Transformation: Perfect for those spontaneous events or when you want a change from your usual look. Within minutes, you can achieve longer, fuller mane.


Premium Quality:

Atelier's

Clip In extensions

are crafted from the finest human hair sources, ensuring a natural look and feel that rivals your own locks. The 100% premium human hair guarantees authenticity and a luxurious feel.


Natural Beach Wave Texture: This unique texture ensures the extensions blend effortlessly with all hair types, eliminating any noticeable differences and providing a cohesive, natural look.


User-Friendly: Designed with both novices and professionals in mind, Atelier's Clip-Ins can be applied with ease, making them a favorite among many.


Styling Freedom:

The quality of Atelier's extensions means they can be curled, straightened, and styled just like your natural tress. This versatility ensures you're not 

limited in your styling choices.


How Long Do Clip-in Hair Extensions Last?
The lifespan of clip-ins varies based on care and usage. However, Atelier Extensions are known for their exceptional durability. With proper care, which includes gentle washing, avoiding excessive heat, and storing in a protective pouch, they can last anywhere from 6 months to a year or even longer. Their resilience ensures you get value for your investment, allowing you to enjoy luscious locks for extended periods.


Tape-in Hair Extensions
Understanding Tape-in Hair Extensions, Tape-ins are a semi-permanent solution that involves attaching thin, flat wefts of hair to your own hair using a durable adhesive tape. These wefts lie flat against the scalp, making them discreet and virtually undetectable. They offer a more lasting solution than clip-ins but are still relatively easy to apply and remove, especially when done by a professional.


Advantages of Tape-ins:
Natural Appearance: Due to their flat nature, tape-ins blend seamlessly with your natural locks, providing a smooth transition that's hard to spot.


Lightweight: The wefts are designed to distribute weight evenly, preventing any strain on your natural hair and ensuring maximum comfort.


Flexibility:

They can be worn in a variety of hairstyles, including updos and ponytails, without revealing the tape.
A full head of tape-ins can take anywhere from 2-3 hours to apply. For the best results and to ensure the longevity of the extensions, it's crucial to have them installed by a professional. It's also advisable to avoid applying direct heat to the tape area to ensure the adhesive remains intact. Regularly brushing with a soft-bristle brush will prevent tangling. With proper care, tape-ins can last 4-8 weeks before they need repositioning.
As we continue to explore the various types of extensions for hair, sew-in extensions stand out as a popular and more permanent method for many.


Sew-in Hair Extensions 


What Are They? Sew-ins, commonly known as weaves, are a more permanent method. They involve braiding the natural hair into cornrows, and then using a needle and thread to sew the weft of the extension hair into the braid. Due to the intricacy of the method, it's highly recommended that sew-in extensions be installed by a professional to ensure optimal results and to protect the health of your natural locks.


Pros and Cons of Sew-ins:
 Pros:
Natural Look: When installed correctly by a professional, sew-ins offer a very natural appearance.


No Heat or Glue: Unlike some other methods, sew-ins don't require heat or glue for installation, reducing potential damage to the hair.


Cons:

Time-Consuming Installation: The process can take several hours, especially if a full head weave is desired. It's essential to have it done by a professional to ensure the best results.


Maintenance:

It's crucial to keep both the natural hair and the extensions clean and moisturized to prevent matting and tangling.
It's essential to regularly cleanse and condition your scalp and hair when wearing sew-ins. Using a diluted shampoo mixture and carefully washing in a downward motion can help prevent tangling. It's also vital to ensure that the braids underneath the weave are completely dry after washing to prevent mold and mildew. Regular salon visits for tightening and maintenance checks are also recommended.
Fusion Hair Extensions
What Are Fusion Hair Extensions? Fusion extensions are a semi-permanent solution that involves attaching individual strands of extension hair to your natural hair using a keratin protein bond. The bond is melted around your natural hair using a heat tool, allowing for a seamless blend. Fusion extensions are known for their durability and natural appearance, making them a popular choice for those seeking a longer-term extension solution.


Pros and Cons of Fusion Extensions: 
Pros:
Long-Lasting: Fusion extensions are durable, lasting up to 2-3 months with proper care.


Seamless Blend: The individual bonds allow for a very natural blend with your own hair.


Cons:
Time-Consuming Installation: The process can take several hours due to the individual bonding method.


Potential for Damage: If not installed or removed correctly, the heat and bonding method can potentially damage natural hair.


Regular maintenance is crucial for fusion extensions. It's essential to use sulfate-free products to prevent the bonds from breaking down. Avoiding excessive heat directly on the bonds and not pulling or tugging on the extensions will also prolong their lifespan. Regular salon visits for maintenance checks will ensure that the bonds remain secure and that the extensions look their best.


Microlink Hair Extensions
What Are Microlink Extensions? Microlink, also known as micro bead or loop extensions, are a method where individual strands of hair are attached to your natural hair using small metal rings or beads. The extension strand and a small section of your natural hair are threaded through the bead, and then it's clamped down using a special tool to hold them together. This method doesn't use any heat or glue, making it a less damaging option for your natural tress.


Advantages of Microlink Extensions:
No Heat or Glue: This method is considered less damaging as it doesn't rely on heat or adhesives.


Reusability: The beads can be opened, and the extensions can be moved up as your hair grows, allowing for reuse of the same extensions.


Natural Movement:

Like fusion extensions, the individual attachment method allows for a very natural movement and blend with your own hair.
Microlinks require regular maintenance to ensure the beads stay secure and don't slip. It's essential to avoid using hair products containing sulfates or alcohol near the beads, as these can cause them to loosen. Regular salon visits every 6-8 weeks will be necessary to move up the extensions as your natural hair grows. With proper care, microlink extensions can last anywhere from 3-4 months.


Halo Hair Extensions
What Are Halo Extensions? Halos, also known as "Volume Extensions" by Atelier Extensions, are a revolutionary and less conventional method of adding volume and length to your locks. Unlike other extensions that attach to your hair strands, the halo uses a thin, invisible wire that sits around the crown of your head, almost like a halo. The extensions hang from this wire and blend with your natural locks. Atelier offers premium Volume Extensions made of 100% premium human hair, ensuring they blend seamlessly with your natural locks. Their natural beach wave texture further enhances this blend, making them perfect for all hair types. What sets Atelier's Volume Extensions apart is their ultra-thin base, one of the thinnest on the market, ensuring a seamless and undetectable fit with no bumps. Additionally, these extensions come with removable clips, offering the option for extra security or to be used without the invisible string.


Advantages of Halo Extensions:
Easy to Use: One of the main benefits of halo extensions is their ease of application. You can put them on or take them off in a matter of minutes, making them perfect for quick style changes.


No Damage: Since there's no gluing, sewing, or clipping (unless you opt to use the removable clips), halo extensions are one of the least damaging types of extensions for your natural hair.


Comfort: With Atelier's ultra-thin base, many find halo extensions to be more comfortable for extended wear.


Versatility: With Atelier's natural beach wave texture, you can enjoy a range of styles, from casual to elegant.


How Long Do Halo Extensions Last? 
The lifespan of halo largely depends on how often they're worn and how well they're cared for. With proper care, Atelier's premium human hair Volume Extensions can last for several months to a year. It's essential to gently brush them, use sulfate-free products, and store them safely when not in use.
Atelier Hair Extensions, known for quality, offers Volume Extensions made from 100% premium human hair, blending seamlessly with a natural beach wave. When choosing extensions, consider your hair type, lifestyle, and desired look. Proper care ensures longevity and optimal appearance.
Choosing the Best Type of Hair Extensions for You
One of the most common questions individuals ask is 'what are the best type of hair extensions to get?' Your personal preference, lifestyle, and hair type play a significant role in determining this. With numerous different hair extensions available, finding the right fit can be daunting. Clip-in Extensions and Volume Extensions from Atelier are ideal for those wanting a temporary style boost, like for special events. They're user-friendly, easily applied, and perfect for those curious about extensions but not ready for a long-term commitment.
What are the different methods of hair extensions that you don't need to remove? Try methods such as tape-in, sew-in, fusion, or microlink. While some can be self-applied, others, like sew-ins, need professional installation.