Beginner Friendly
Hair Extensions
DISCOVER ATELIER
CLIP-IN HAIR EXTENSIONS
Get natural-looking length & volume with Atelier's Sublime Wavy Clip-In Collection. Our anti-slip clips provide all-day hold for a comfortable, confident look. Say goodbye to bulky extensions - hello to lightweight, natural feel. Buy now!
VOLUME HAIR EXTENSION
Get bouncy, natural-looking hair with the Absolute Volume Halo. Our lightweight, secured fit provides all-day comfort, while pre-styled beach waves add glam and chic to your next vacation. Order now and exude confidence anywhere
Hair for all
Balayage Hair
Transform your look with stunning balayage hair extensions! Mimicking the natural sun-kissed highlights of the balayage technique, our high-quality human hair extensions are available in a variety of colors and lengths to match your natural hair
Red Hair
Get fiery flair with our natural red clip-in extensions! Made from 100% human hair, they blend seamlessly for added length & volume. Choose your perfect shade, length, and thickness for a flawless look!
Color Match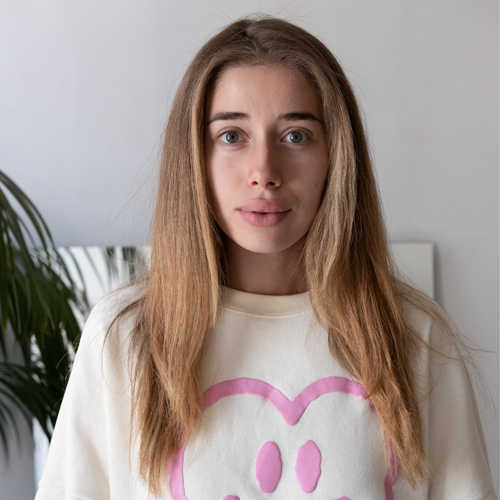 Connect with one of our dedicated team members in real time for assistance.
When trying to match your hair color with our extensions, always look at your hair color in natural light. Indoor lighting can distort the true color of your hair, leading to a mismatch.
Discover the Magic of Atelier Hair Extensions
Founded by the visionary Irene, a third-generation hairstylist, Atelier Hair Extensions is more than just a brand; it's a legacy. Irene's journey began with crafting impeccable, natural-looking wigs that found their way to women across the globe. Whether it was for religious commitments, medical conditions, or a simple style transformation, Irene's creations became a beacon of hope and confidence.
With her immense experience and deep-rooted passion and knowledge of hair, Irene embarked on a new venture. She introduced volume and clip-in hair extensions that not only are very discreet but also an unmatched comfort. After an intensive nearly two-year period of development, the outcome was nothing short of perfection: salon-quality, 100% human hair extensions that promise unparalleled comfort and a seamless blend with one's natural strands.
Partnerships That Resonate
While our premium extensions are available online, we're proud to be associated with select salons and bridal hair experts in New York, and all over the U.S. These partnerships not only amplify our commitment to quality but also insure accessibility.
Atelier's Diverse Clientele
Just as our products come in a wide range, so does our clientele. From first-timers exploring hair extensions to those needing extra volume or length due to fine strands, brides, or stylists sourcing for their clientele, Atelier accommodates all. With our easy-to-use extensions, everyone can effortlessly attain their dream appearance.
Why Atelier Stands Out:
Salon-quality, 100% human hair extensions.
Diverse clientele: brides, stylists, first-timers.
Authenticity prioritized: natural feel & look.
Pre-styled beach waves for easy styling.
Versatile lengths & styles, including balayage.
Crafted with meticulous attention to detail.
For those eager to transform their look with Atelier, we're thrilled to offer worldwide delivery, ensuring our extensions reach every corner of the globe. And as a special token of appreciation to our beloved USA customers, all domestic shipments are absolutely on us.
Show More